Customer Experience and Optimization Strategies that Convert
It costs time and money to convert visitors to customers. How many of them do you retain?
We help
SaaS brands and product owners

improve their customer experience through proven conversion and experimentation techniques.
"Chillital has become a vital part of our time and essential for our future growth." – Adam Phillips, CEO KalariLab
Higher customer acquisition costs. Lower customer retention. Audiences distracted and overloaded with options and campaigns designed to just grab attention. 
We're fighting against a system that no longer works. With every day that goes by, it gets harder to grow profitably. 
Customers are more likely to listen when they feel respected and listened to.  Not many product owners have been quick to embrace this new trend. Companies are still obsessed with quick-fix revenue strategies at the expense of long-term retention and profit.
The best customer experiences last for years. They're incredible, but in order to achieve them, you need a repeatable process that builds relationships. 
You need to stand out from the crowd and provide a great experience for your customers, or someone else will. As you grow larger, competition and acquisition costs rise – and companies have lower profit margins than ever before.
How do you fight against this?
We're not interested in a user testing sprint or seeing which A/B tests generate the most revenue. Instead, we want to give our clients differentiation in the marketplace and slow down churn using data and strategic experimentation.
Our product-led hypotheses empower you to increase engagement, boost conversions, build loyalty, and drive revenue. Not by gimmicks or tricks, but by being better at human behavior than your competitors are.


How
Chillital

can help you

grow
Businesses that retain customers long term grow higher profits than the ones who only focus on customer acquisition.
Customer Experience Optimization
We deliver insightful research that pinpoints the top customer frustrations, plus insights into the competitors that fight against you for the same customers.
We then create a Customer Experience Optimization strategy that delivers great UX while strategically managing your product for optimal customer retention.
Make sense of your options and develop a viable strategy for tackling all the weak spots of your customer journey.
The 50+ pages conversion audit includes recommendations on what to look for and improve across all your products, tools, apps, and data.
You will know if you are tracking user interactions correctly and get never-seen-before insights from your customers and how they use your product.
You will also get 10 hypotheses for optimizing your website, based on qualitative and quantitative research.
It's tempting to make assumptions about what users want from your product, but doing so can result in a terrible user experience.
We use a proven methodology for you to gain insight into what users really think about your product.
We'll help you run tests, translate your business objectives into actionable CX questions and then carry out tests resulted from in-depth customer research.
The decisions you make based on data could be making or breaking your business.
We look at your existing data sets and implementation and work with you towards making sure that everything is tracked correctly.
You will get valuable insights on your customers' journey and learn how to interpret and use the data to better serve your users.
Less guessing

means

more revenue
Because each business is unique, what worked for someone else might not work for you. That's why we focus on getting to know your ideal customer and communicate directly with them. After all, businesses serve customers, not the other way around.
After multiple trials and errors, we have created the one audit that can show you the true identity of your users and what really makes them buy.
The Chilliplan features both quantitative (numbers) and qualitative (UX) analysis, which will show you:
– who your users are;
– what they are doing on your website;
– what the main drop off points in your funnel are;
– 10 ready to implement testing hypotheses based on YOUR data.
Click on the button under the graph to see a full Chilliplan.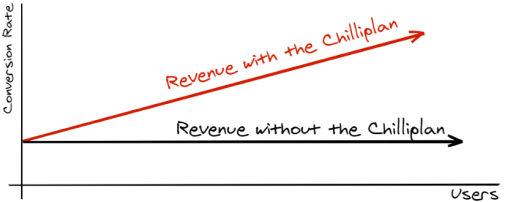 Youtube traffic increased by 4 digits
Experimentation doesn't only work on websites, but really any product you sell online. In this case, the conversion was not about buying a product, but enticing people to click and watch a video.
In just 3 months we managed to:
– increase views by 4391% (that's over 4 thousand percent);
– increase CTR by 78%;
– increase subscribers by 5246%.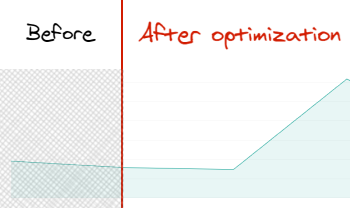 Doubled the revenue of an online course
4 digit increases are once in a lifetime events, but doubling the revenue happens quite often. An online school asked us to help optimize their website and messaging.
This resulted in:
– 12% decrease in churn rate;
– 50% more sign ups for their monthly subscription;
– 103.5% increase in monthly recurring revenue.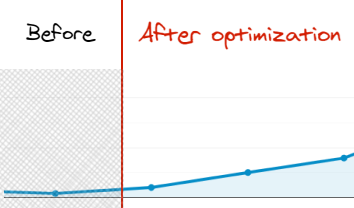 Getting to know the ideal customer resulted in 43% higher revenue
Perhaps the easiest way to get a quick boost in revenue is to use the same language on your website as your ideal customer uses every day.
Data showed that people didn't really understand what this app was about.
We fixed the copy and got:
– 14% less churn;
– 43% increase in revenue;
– 1923% increase in free trials started.