Customer Experience and Optimization Strategies that Convert
It costs time and money to convert users to customers. How many of them do you retain?
We help
SaaS brands

improve their customer experience through proven conversion and experimentation techniques.
"Chillital has become a vital part of our time and essential for our future growth." – Adam Phillips, CEO KalariLab
Acquiring more users costs more than keeping the ones you already have.
You can increase your profits by optimizing your website to better serve your ideal customer.
The SaaS optimization process relies heavily on data. That's why the first step is making sure that you track all user interactions on your website.
Analyzing your data is essential to find out what is broken and what is working – both in terms of quantitative analysis (numbers) and qualitative analysis (UX). 
Strong relationships and feedback from your customers are essential. It's them who decide which headline is more attractive, if the copy explains the benefits of your product, or if the onboarding process is clear enough. 
Testing hypotheses can add up quickly, so it's very important to prioritize them.
Because time is money, you should implement the easiest hypotheses, that also have the highest growth potential – followed by all the others.
When there are no hypotheses left to test, track what worked, analyze why, and repeat the flow. That ultimately leads to higher numbers in terms of revenue. 
We can help you increase your conversions, decrease your churn rate, and guide you into making better business decisions by understanding your customers.


How
Chillital

can help you

grow
Businesses that retain customers long term grow higher profits than the ones who only focus on customer acquisition.
Customer Experience and CRO
We start with a conversion audit that looks into your data and customer insights. This helps us build a roadmap for testing and improvement.
The goal is to test and improve bottom of the funnel metrics such as retention, CAC or CLTV.
It's more beneficial in the long term to keep the customers you already have than spending more money to acquire new ones.
The 50+ pages conversion audit includes recommendations on what to look for and improve across all your tools, apps, data and culture.
You will know if you are tracking user interactions correctly and get never-seen-before insights from your customers and how they use your software.
You will also get 10 hypotheses for optimizing your website, based on qualitative and quantitative research.
Understanding your users' motivations, needs and anxieties is essential. Not one person has the same needs throughout their lives. You must adapt and overcome.
Get hands-on feedback from your existing customers, and implement strategies that turn them from users to fans.
Forget about your biased view on your website. See what your current users' pain points are, and develop strategies on how to address that friction.
We look at your existing data sets and implementation, and work with you towards making sure that everything is tracked correctly.
You will get valuable insights on your customers' journey and learn how to interpret and use the data to better serve your users.
Some of the tools we work with are GA, GTM, Mixpanel, and Amplitude.
Less guessing

means

more revenue
Because each business is unique, what worked for someone else might not work for you. That's why we focus on getting to know your ideal customer and communicate directly with them. After all, businesses serve customers, not the other way around.
After multiple trials and errors, we have created the one audit that can show you the true identity of your users and what really makes them buy.
The Chilliplan features both quantitative (numbers) and qualitative (UX) analyses, which will show you:
– who your users are;
– what they are doing on your website;
– what the main drop off points in your funnel are;
– 10 ready to implement testing hypotheses based on YOUR data.
Click on the button under the graph to see a full Chilliplan.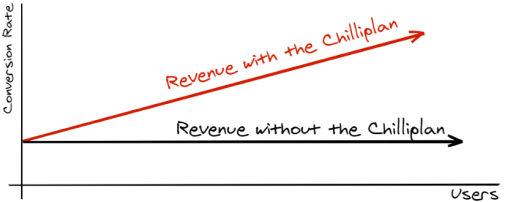 Youtube traffic increased by 4 digits
CRO doesn't work only on websites, but really anything online. In this case, the conversion was not about buying a product, but enticing people to click and watch a video.
In just 3 months we managed to:
– increase views by 4391% (that's over 4 thousand percent);
– increase CTR by 78%;
– increase subscribers by 5246%.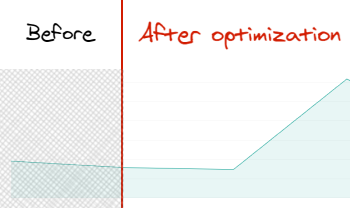 Doubled the revenue of an online course
4 digit increases are once in a lifetime events, but doubling the revenue happens quite often. An online school asked us to help optimize their website and messaging.
This resulted in:
– 12% decrease in churn rate;
– 50% more sign ups for their monthly subscription;
– 103.5% increase in monthly recurring revenue.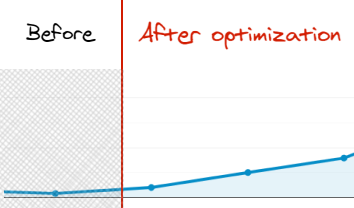 Getting to know the ideal customer resulted in 43% higher revenue
Perhaps the easiest way to get a quick boost in revenue is to use the same language on your website as your ideal customer uses every day.
Data showed that people didn't really understand what this app was about.
We fixed the copy and got:
– 14% less churn;
– 43% increase in revenue;
– 1923% increase in free trials started.