It seems like there's a new blog post every other day to explain the importance of a differentiated B2B SEO strategy, or how to optimize your site for an upcoming push toward personalization.
All of these topics are important to keep in mind.
But the truth is, not many people spend their days trying to think up ways their business can utilize such strategies.
SEO best practices haven't really changed. They're just packaged differently. And going back to the basics will help you put together a cohesive B2B SEO strategy that you can track, measure, and improve over time.
B2B businesses offer a unique set of challenges when it comes to organic growth.
When we're talking about B2C, we can pretty much assume that the consumer is already aware of the brand, and is actively looking for you.
That's not always the case with B2B brands.
You might need to be at the forefront of building awareness, so people know who you are and what you do. It might seem like a big difference from running a B2C business, and it essentially is, but that doesn't mean there aren't tips and tricks we can apply from B2C to make the job easier.
B2B is still 'selling to humans'
Like any other type of marketing, the first step to implementing a successful B2B SEO strategy is to understand how it works.
This includes learning about the software and processes involved as well as the challenges that come with it.
The first piece of advice you'll find online is how to optimize your website and other marketing materials. There are various aspects included here: title tags, custom page titles, meta descriptions, and keyword research. You should also know how to optimize for other factors such as social media and different screen sizes.
However, nobody talks about what the audience wants and needs. I'm not talking about buyer personas, but rather human behavior and basic psychology.
So, how do you move on past the basic advice of optimizing title tags and adding a few keywords here and there?
Let's get right into it!
A 10-step B2B SEO strategy
1. Talk to your team and ask them to describe your ideal customer
You should sit down with your operations, sales, and marketing teams and start describing your ideal customers.
Some things to keep in mind are:
demographics – where do they live and how that affects their buying behaviors
career – are they a CMO or a CFO? Who's YOUR target customer?
pain points and goals – can you solve their pain points and can you meet their goals?
where they look for help – can you be that go-to resource?
questions regarding your product – can you answer those efficiently?
their stage in the funnel – are they at the consideration stage or buying stage? Can you create content for all stages of the funnel?
2. Use Google Search Console
If you have Google Search Console running (and you should!), click on Performance and analyze all the queries people use to find you during the last 6 months.
What are the top 100 search phrases? Do they reflect the product or solution you offer?


3. Create a spreadsheet of keywords
This is the most obvious of all the tactics we'll discuss for this post — and it is also one you should be doing.
Create a spreadsheet with a list of search phrases that describe what you would search for if you were looking for your product.
Your team should get together and contribute to the spreadsheet.
The right way to do this is to create two separate tabs, one for the keywords you already found in Google Search Console, and another one for all the keywords you can come up with.
Next, make sure you:
a. Check the Google autocomplete suggestions for your desired keyword. It should look like this:


b. Add suggestions from a keyword research tool like Ahrefs.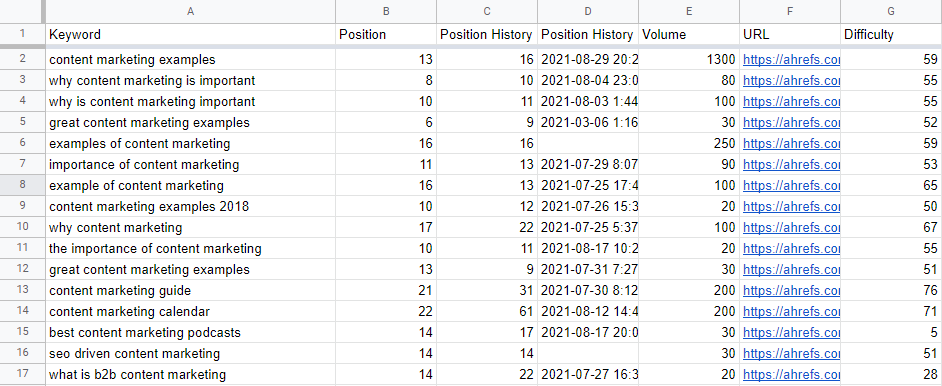 4. Pay attention to search intent
It's important to understand the reason why people search because it helps you write content that speaks directly to their needs.
If someone searches for "How do I get rid of ants?", then they probably aren't interested in an article called, "The Benefits of Having Ants in Your Home".
Being able to ascertain search intent comes down to understanding the different types of intent and developing the ability to recognize them.
Based on this, it becomes quite clear that knowing as much as possible about your customers and what they're trying to accomplish online is important for achieving goals such as improving conversions and increasing engagement.
Understanding search intent is crucial to achieving those goals because you can tailor your content and website to match the search behavior of your customers.
The best way to improve the chances of someone making a purchase or investing in your product or service? Optimize for search intent.
To do so, use Google to search for the keywords you identified above, and create content matching that specific intent.
5. Divide your keywords between Top of the Funnel and Bottom of the Funnel
BOFU keywords are the ones people search when they are ready or almost ready to buy your product or service. This is at the consideration or conversion stage, meaning they are looking for information to help them make a final buying decision.

On the other hand, TOFU keywords are typically those that are used by customers before they have made up their minds about who they want to buy from.
They are keywords that introduce people to you and your brand.


6. Come up with content ideas for both BOFU and TOFU keywords
Ideas for content can be found by analyzing your competitors' search keywords, too.
You will find the most benefit if your competitor's website is similar to yours. For example, if you sell products online, check out what products your competitors are selling and look for similarities between what they're saying about themselves and what you say about yourself.
One great B2B SEO strategy is implementing "alternative pages". If you sell an email marketing tool, you might benefit from creating pages that target these keywords:
Mailchimp alternatives
Klavyio alternatives
At the same time, make sure that you create blog content based on TOFU keywords, and service pages or info pages based on BOFU keywords.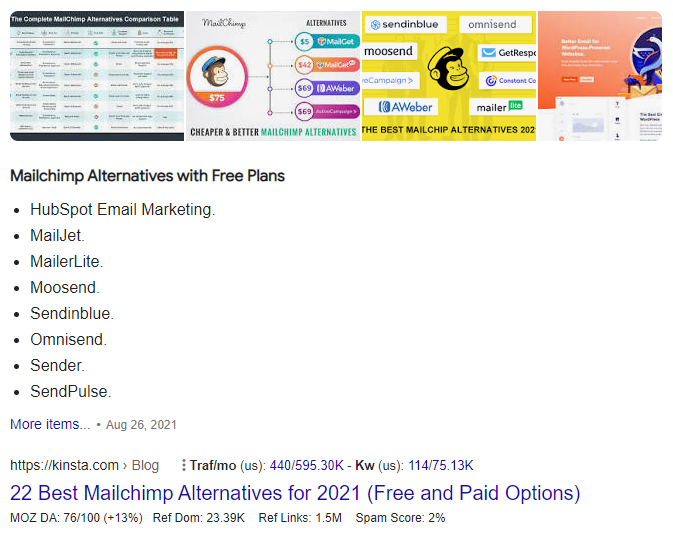 7. Create your landing pages using BOFU keywords
When you are creating your service pages and landing pages, use the words you have identified as BOFU keywords.
These are the words that you have brainstormed and are relevant to your services.
Once you identify the right keywords, make sure you do the following:
mention your target keyword in the title, meta description, headings and URL;
use variations of the target keywords in the body of your content;
find Latent Semantic Indexing (LSI) keywords for each of these pages and use them in the content. Latent Semantic Indexing (LSI) keywords are what I like to call "secondary keywords." They are closely related or similar to your primary keyword.
8. Create a content calendar for TOFU topics
Since you'll be using TOFU keywords for your blog pages, you should create a content calendar so that your team has a predictable schedule and you take into consideration certain upcoming events or seasonality.
When planning content, use your conversations with the customers and your team to develop the right tone that your audience will find attractive.
You should show expertise and answer as many questions as possible. Use Google's related searches and keyword research tools to find common questions your audience has.
9. Pitch your content
From a link-building perspective, you need to look for reputable and trustworthy websites in your niche that accept guest posts.
Popular roundup posts are a great way to share your expertise with your readers.
Moreover, pay attention to broken links on other websites. You can start pitching website owners to replace those links with your links.
The problem with broken link building is that it's very time-consuming to find websites with broken links. That is, if you do it manually.
I always use Ahrefs' backlinks feature and search for broken links on relevant websites.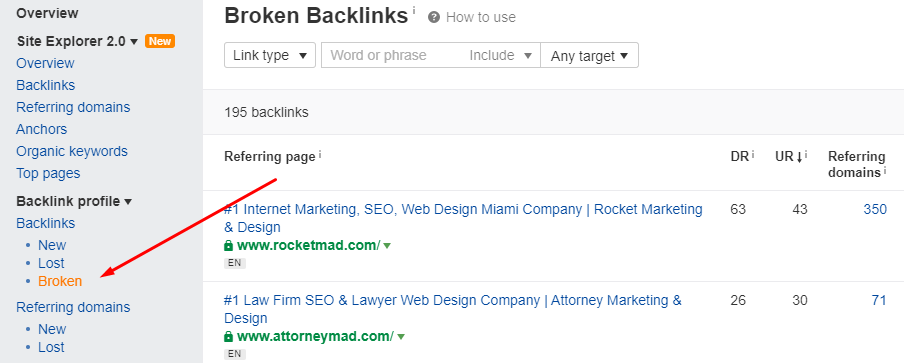 10. Perform a technical SEO audit
Finally, you will want to perform a technical SEO audit on your website. The purpose of a technical SEO audit is to make sure your website is running as fast as possible and that Google can actually read your awesome content.
Ideally, you should run your website through a tool every month to monitor the progress you're making and any remaining issues that need to be resolved. Even if you don't have the budget to employ full-time search engine optimization specialists then you can take advantage of free and low-cost solutions and tools.