At the beginning of 2020, we took on the challenge of increasing the Kalari Lab's YouTube channel. As you probably remember, that was when the worldwide lockdown started.
In this case study, I will go over our Youtube optimization strategy that helped KalariLab scale from 2,000 views per year to over 2,400 views per day, in a little over one month, without uploading any new videos.
The framework we use at Chillital works with any platform and type of content (see our process for a breakdown).
We followed these 4 steps:
How it started
KalariLab is a martial arts online school located on a remote island in Thailand. Due to the lack of access to the physical location, we had to show people how they can learn martial arts just by watching a series of videos.
Adam, the school's master, put together a video course aimed at complete beginners. He used Teachable to distribute the content and, of course, charge for it.
On top of this, he had a presentation website that was mainly used to book appointments for his physical school, rather than sell online courses.
We could not completely redesign the website, as the lockdown could've ended at any time, but rather blend the online course presentation with the existing copy.
During the first months, we've tried to push traffic using influencers, paid ads, and email marketing, which worked, but the low conversion rate was making it extremely difficult to reach a positive ROI.
We dropped the introductory lessons price to just $1 hoping people would get a feel of the course before we upsell them the full curriculum. This worked for a short while but still wasn't generating the results we were looking for.
Adam had a Youtube channel for close to 3 years, but he never really spent too much time on it. In fact, it took us a couple of months to even know it existed, and that was by pure chance.
Since I am an optimizer at heart I knew that some video reviews from students could do wonders for the conversion rate, so I asked for some.
That's how I discovered they had a Youtube channel.
Your competitors guide your initial strategy
The first thing we did to grow the number of views and reach was to spy on competing youtube channels. The niche we were working on was extremely small compared to the mainstream ones.
Even so, we were fighting against channels with over 200k subscribers and millions of views.
We started by peeking at what tags they use, how they structure their video descriptions, and what keywords they rank for.
Since the average search volume for most keywords was relatively small, we decided to go with general ones:
Kalari, kalaripayattu, kalari training, kalaripayattu training
One important point to keep in mind is that Youtube is not simply a search engine. It also has the functionality of a social network. Youtube will actively display your videos on the homepage, in the "Recommended" section of other videos, and even on other channels' pages.
In fact, the absurd increase we've seen was because Youtube finally understood what each video was about, and it recommended it to the right audience.
The Youtube algorithm analyzes different components of each video (title, description, tags, subtitles, etc.) and decides who would be interested in viewing it. Then it displays it to a small audience to see how they will engage with it. If all the signals are positive, the algorithm will increase this audience automatically until it reaches everyone.
Keep in mind that you will experience a sudden and abrupt decrease in views once the audience has been exhausted. You should immediately start uploading new videos if for some reason you've stopped doing that, like in our case.
Piggyback on your competitors' fame
With the main competitors researched and the keyword research done, we started looking for videos with the most chances of ranking. We were lucky to find that most were professionally filmed and edited, which was a big plus.
Before we found out about the Youtube channel, we tried to convert users by giving them 6 video lessons for just $1. We've found 3 of them uploaded on the channel, so we decided to start by optimizing them.
These videos were 50 minute long introductory lessons, perfect for beginners or people looking to learn more about ancient martial arts.
We did several things for each video:
Edited their titles to include the focus keyword;
Optimized the descriptions to feature the focus keyword;
Tagged them in order to tell Youtube what the videos were about.
How to leverage video tags
Tags are still extremely important for Youtube. They literally tell the algorithm where it should display the video.
For the best effect you would have to use a combination that goes like this:
50% should be keywords you are targeting;
30% should be general topics of your video;
20% should be other channels' names;
Remember that you can only write a maximum of 500 characters in the tags section, so stick with the most important ones.
We went with different variations of the same keyword because the name of the martial art is spelled differently depending on the region.
Use TubeBuddy to get a list of tags as we did. You can start with the free version and upgrade to the full one once you know how to fully leverage its power.
Video add-ons boost engagement and views
Youtube is the second most visited website in the world according to Similarweb. Moreover, Youtube's display language changes depending on your IP, which means that German people will browse Youtube in German, French people will browse it in French, and so on.
Our videos were narrated in English, so one thing we could do to increase reach just a bit more was to add subtitles in different languages.
This was relatively easy to do as Youtube has built-in functionality that would auto-generate subtitles for each video uploaded on the platform. All we had to do was to go in the settings, slightly tweak the auto-generated text and translate it into 8 different languages.
We've also created different descriptions and titles in the respective languages to further increase the chances of ranking.
Because the channel's niche was hyper-targeted, subtitles did not boost reach too much. Even so, a few users that did not speak English highly appreciated the subtitles and converted to paid customers.
Youtube Video Addons – End Screen and Cards
The first rule of UX is to make it obvious for people what's the next step they have to take after they did something you wanted them to do.
This principle applies to Youtube videos as well. We wanted to tell people what they should do after they viewed a video by showing them the next one in the series.
To achieve this we've used the end screen functionality to display a subscribe link and the thumbnail of the next video.
Youtube gives you 3 different options to choose from:
Depending on your channel type, you might want to go with the first option, but since this was a video series we picked the next lesson.
Taking it one step further, we've also added video cards. These appear in the top right corner of the video as some sort of native advertisement. At first, we pointed them to a playlist, but once we hit the 10k subscribers mark we used them to promote the website.
How to run on and off-platform promotions to increase views
When used properly, Youtube is a powerhouse when it comes to brand awareness. Besides simply posting and optimizing videos, we've also leveraged the community posts feature.
This functionality only works in the mobile app, and since most of our audience use their phones to view the videos, this was proven to be a gold mine.
Unfortunately, only subscribers can view these posts, so this strategy worked better later down the line.
Cross-platform promotion
Simply creating posts for the community was not enough for us. We went one step further and created a 7-day challenge. The idea behind it was to encourage subscribers to practice a specific Kalari pose then take a picture or video and post it on Instagram using a specific hashtag.
This would help us engage existing subscribers and convert them into brand ambassadors. In addition, they would also have a chance of winning the full course for free.
Influencer marketing
The previous campaign went really well so we wanted to double down on Instagram. We got in touch with a few influencers offering them free consultation lessons and access to the full course in exchange for a shoutout.
The results were not really what we expected due to the nature of the channel. Most martial arts influencers already had their own courses or contracts, which made it difficult for us to work with them.
We've worked with around 20 influencers, but the community campaign has proven to be more effective than this one.
Youtube case study results
At the beginning of the optimization process, we've seen a spike across all metrics. Our main goal was to get as many subscribers as we can in a short amount of time (which represents a soft conversion) and later convert them into Youtube channel members or send them to the self-hosted online course.
During the first month, we've reached almost 250 subscribers in a single day, but that growth has stabilized once we reached the core audience.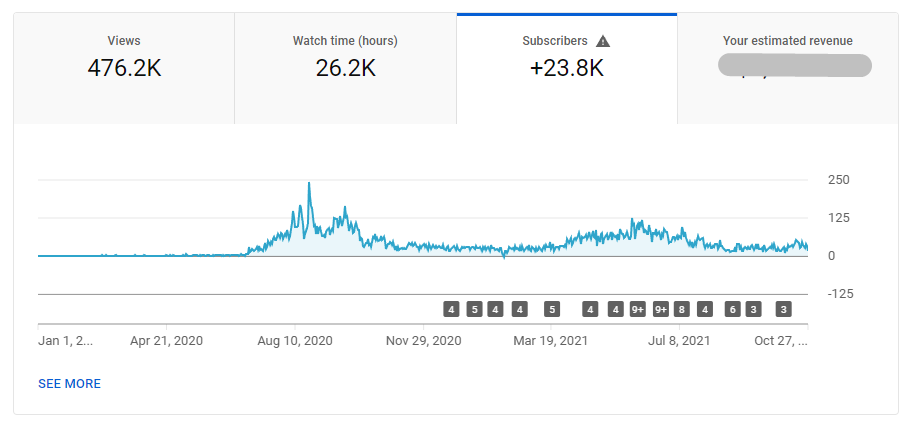 Since that spike happened we have generated over $30k in combined revenue from Youtube members and self hosted video course.
Our content marketing strategy works for any format
Whether you want to dominate SERPs or build an audience on Youtube, you need a process that takes you from research to promotion.
To recap, make sure you follow these 4 simple steps, in order:
Research – Know what your competitors are doing and what users want;
Strategy – Combine the findings and put together an action plan;
Optimization / Content Creation – Follow the action plan;
Promotion – Boost reach by testing different promotion channels.
Our strategy works because it helps define your ideal customer. You will use that knowledge to create and optimize content that will dominate your target market.
Remember to always start with a small niche before going for a larger audience. We did an experiment to see what would happen if we had an incredibly large audience without focusing on a segment first.
Our content reached every single Pinterest user in the US, but that was not enough. You can read all about that in our Pinterest Case Study.
Don't let competitors outrank you anymore
The faster you start working on your content marketing the sooner you'll get results. It takes time to:
rank;
build an audience;
increase your email list;
convert leads to customers.
Your Youtube channel can be your biggest traffic source. Drop us a line by completing the form on the "work with us" page and see how you can reach more prospects and increase your brand awareness.