The sole purpose of content marketing is to generate business. At Chillital, we take over your content strategy, from concept to sales.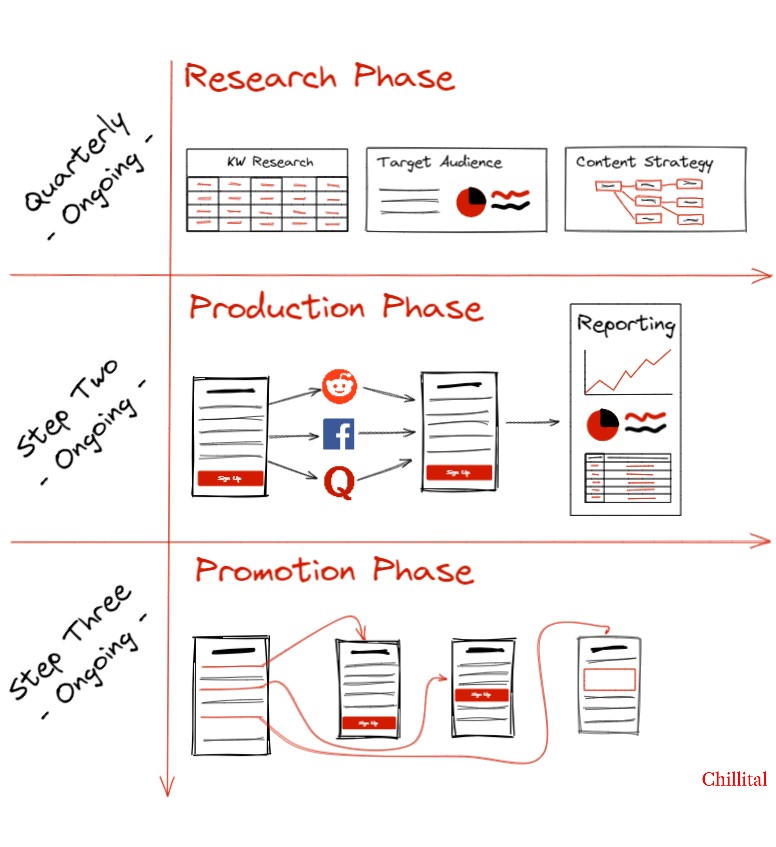 We have over 12 years of combined experience in content marketing, SEO, and conversion rate optimization.
The difference between other content marketing agencies and us?
You will work directly with one of us, the co-founders. Our goal is to dedicate our efforts to a few clients at a time, ones that we really enjoy and love working with;
We don't just do "content marketing". We have expertise in digital psychology and understanding human behavior. We know what makes people click and convert.
You won't measure success by the amount of content we produce, but rather by the results we generate.
We have set playbooks and established frameworks that help us hit the ground running from day 1.
Here's how we do it.
We start with research
Content research means understanding why someone would buy from you, what goes on through their mind as they browse through solutions, and what makes your product unique.
Most people pick high-volume keywords without understanding the search intent. This means they get lots of traffic but close to no conversions.
The goal of our strategy is to get people to buy your product after they read your content. Some of the things we'll ask your customers, customer success team or sales department are:
Which customers were the easiest to close? As in the shortest sales cycle… Why was that?
For the companies that bought our product/service, what was the most common reason they bought?
What customers really see the value of our product or service?
What are some of the most common questions great customers ask?
What is the primary benefit that you have received from (Product or service Name)?
What would you likely use as an alternative to (Product or Company Name) if it were no longer available?
This thorough questionnaire will help us assess your customers' pain points.
We then look for keywords that are not only popular but relevant and feasible.
Determining your business model
We learn about your business model to come up with relevant keywords, depending on where you fall on this spectrum:

For Stable industries, we generally pick long-tail keywords and work our way up to higher-competitive ones. Businesses from this category are well established and don't change much over time.
A good example would be an email marketing tool. Over the years, this industry hasn't introduced features beyond the already-existing technical advancements.
For changeable industries, we go 50-50. We pick both stable keywords that can rank and remain relevant as well as riskier, more "controversial" ones.
A good example would be a content marketing tool. With the advancements in AI, it's very likely that new features we've never heard before are going to emerge in the market.
For volatile industries, we take a risk-hungry approach to content marketing. That's because the industry is either brand new or is expected to change exponentially in a couple of months.
A good example that comes to mind is robotics. Who's searching for "AI cooking robot" right now? Probably no one, but guess who's gonna be the first in the SERPs when the trend emerges.
Keyword research process
By now, we already know who you are and your goals in terms of content marketing.
We follow this process:
Identify keywords for all the three stages of the buyer funnel (top, middle, bottom) and prioritize bottom of funnel keywords;
Discover what your competitors rank for;
Research your customers' pain points and brainstorm with your team;
Determine your relevant keywords by analyzing their search intent.
Create the content strategy
Without a content marketing strategy in place, you run the risk of publishing mass-produced content, with no specific purpose and zero conversions.
This strategy will help us understand:
Who we write for;
What we should write about;
What extra value we're adding;
How we measure and analyze performance.
Based on the above we use the "branching tree" framework to prioritize content topics.
We start with the "trunk" post that targets a higher-volume, higher-competition keyword and build content "branches" around it.
Think of it like this:

The "branching tree" framework works because:
The trunk is usually the post that attracts backlinks, as it's longer and covers a wider range of similar topics.
Readers love in-depth guides rather than jumping from strategy to strategy;
Trunk content portrays authority. Especially with SaaS brands, they tend to get more conversions from long content than from short pieces.
Produce expert-level content
To achieve this, we brainstorm the topic and target audience so we can:
Earn their trust;
Position you as an authority;
Hook them in through content they crave;
Guide them through related articles so they don't bounce;
Remember, the goal of content marketing is to educate your readers so they don't look for answers elsewhere.

Promote your content
Each article should serve a purpose and be assigned a distribution channel.
We develop the community content promotion strategy by following this 3 step process:
📩 Identify the best distribution channel for each content piece;
💭 Develop a unique promotional message for each channel;
👻 Bring the content piece to life.

Content needs to be high-concept to do well in communities. If interesting information is buried behind a generic title like "The Ultimate Guide to AI Copywriting Software", it has zero chances of going viral.
Instead, we go for high-concept content like "We Analyzed 14,502 pieces of AI-generated ad copy. Here are the results".
Your content shouldn't feel like marketing, it should follow the 80-20 rule – 80% information and 20% sales.
How we measure content marketing ROI
A conversion can fall into one of these 3 categories:
Lead – this is the first step in the customer journey process, like capturing an email with a free ebook, or getting a subscription to your newsletter;
Prospect – this is the middle step in the conversion funnel. Consider someone that completed a contact form or called your business for more information;
Customer – this is the last step of the conversion funnel, someone that signed up for an account or purchased your product.
For a conversion action to occur, your content needs to naturally lead the reader towards the call-to-action. We write for each step of the funnel and track each conversion individually using Google Analytics.
Then we take this data and plot it in Google Data Studio so you can instantly see the impact of each blog article.
Moreover, we even take care of your tracking implementation to make sure everything works as expected. We use Tag Manager for this, so it doesn't matter what platform your website runs on.

Measuring conversions allows us to drive the focus away from vanity metrics and focus on what's important: how many leads you got.
Because that's the most essential ROI indicator for all of our clients. You need revenue to keep your business growing, not just nice-looking numbers that mean nothing overall.
Remember that each piece of content needs time to rank, so the sooner you get started the better.
Interested to work with us? Let's chat!