At the beginning of 2020, a wine subscription company reached out to us wanting to expand in the B2B sector and offer subscriptions to companies and corporate events.
At the time, the company had a steady stream of revenue and loyal customers. They were one of the top 3 wine subscription businesses in their city. Nonetheless, they weren't getting any organic traffic as most of their efforts were focused on paid ads and social media.
Our initial 90-day content strategy was focused on:
Expanding their services to B2B and assisting them with B2B landing page creation;
Focusing on bottom-of-funnel keywords;
Creating content around corportate events.
In less than 2 years, we grew their organic traffic by 3,000%, from 700 to around 22,000 page views per month.
Working with a B2C company and creating a B2B content strategy is not easy. For one thing, it's hard to tell what works and what doesn't.
We tried a lot of different things and had to switch strategies when we saw which content moved the needle most. It took us over 1 year to get from 0 B2B leads to over 10 a month. We also kept track of what content was most popular with the readers, and this helped us refine our strategy.
Over time, we noticed more and more traffic coming from social media, as well as backlinks from other websites including local news sites.
In this case study, we'll go over:
How we did customer research to help the company position themselves in front of B2B (jump to section);
Why we initially focused on ready-to-convert keywords (jump to section);
How we used bottom and middle of the funnel keywords to lead readers to the company's B2B landing pages (jump to section).
B2B customer research
The company was traditionally selling B2C wine subscriptions. As mentioned above, they had a good amount of happy customers and had a proven product-market fit.
Our challenge was to create content that would sell their subscriptions to B2B customers.
We started our research by identifying which types of customers the company was looking after:
hotels;
events;
restaurants;
corporate events.
A lot of businesses fail because they don't know their customers. They don't understand what their customers want or need, or how to reach them. They don't know who their competitors are. Businesses aren't built on visionary ideas; they're built on understanding your customer better than anyone else does.
The more you know about your customers, the better you can determine what they need from your business, how they'll find you, and how to get them to return.
In knowing your customers, there are two things you must remember:
Your customers need to be able to trust that you know what you're talking about. You must be a subject matter expert. This company was selling wine. They needed to be a subject matter expert and understand why a restaurant would benefit from buying a subscription;
The customer must feel that they are in control of the relationship. This is because relationships are rarely one-sided, and the customer must feel that they are contributing as well. In other words, when an events company was buying a wine subscription, they will naturally have questions after they purchase it. In order to retain them as a customer, we should have the answers to their questions.
We reached out to some of the businesses in our client's network and found out the following:
They were paying way more for bulk orders than they would've paid for our client's monthly wine subscription;
They had tons of issues with their current suppliers as delays were always impacting the delivery and sometimes, they'd have limited quantity;
They were not impressed by the quality of the service. Most of them were high-class event or restaurant managers who wanted to have access to rare bottles or someliers that would give them advice.
However, surveys are almost always performed in ways that favor the company or the competition. Surveying customers must be done carefully to avoid bias.
While you should still test your ideas with prospective customers, you can get a different perspective by asking customers how they think of you, rather than what they think of you.
Here is an example of how this might look:
"If you were to tell someone about our company, what would you say?"

"What do you wish you knew more about the company?"

"How did you come to know about us?"

"What does your ideal company/product/service look like?"

"Would it help if we added [x] feature?"

"Can you tell me why [x] is important to you?"

"What's something that bugs you about us?"
Note that these questions are mostly suited for existing customers, but they can be adapted in case you want to expand or you'd like to survey customers about your competitors.
Why bottom of funnel keywords move the needle at the initial stages of content
A lot of content marketers start with top-of-the-funnel content because they think it's easier to write, and naturally, the readers go from the top of the funnel and move their way down to the bottom of the funnel.
Wrong.
Most people don't start at the top of the funnel, and most people don't make their way down it. Most people never move from one stage to another, and marketers thus waste time and money trying to move them along.
The traditional funnel doesn't map to reality.
Traditional funnels start with awareness and then lead people through interest and desire to action and finally to loyalty. The problem is that very few people ever reach the stage of desire. In fact, depending on what you sell, only a tiny percentage of people will go from awareness to action. And almost no one goes from desire to loyalty. In all likelihood, your business would be better off if you abandoned these stages altogether.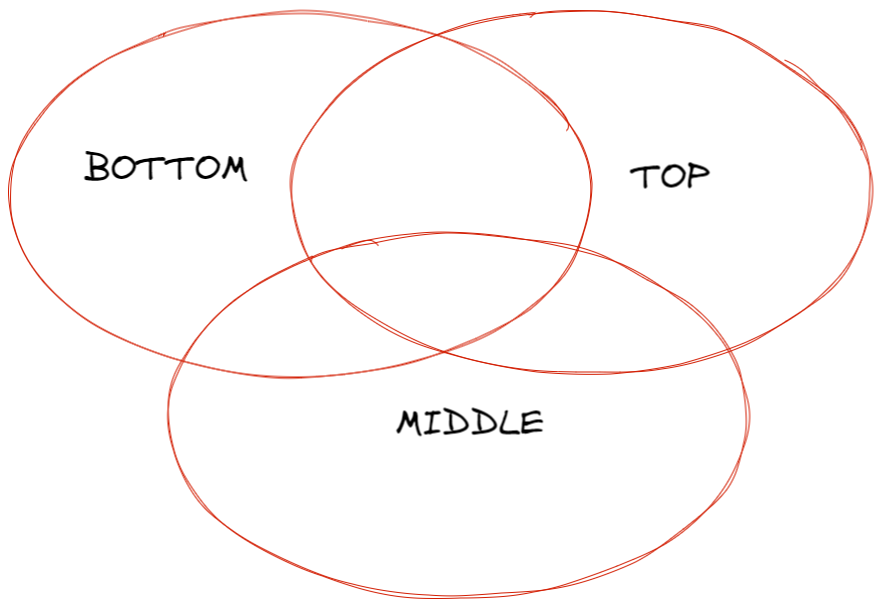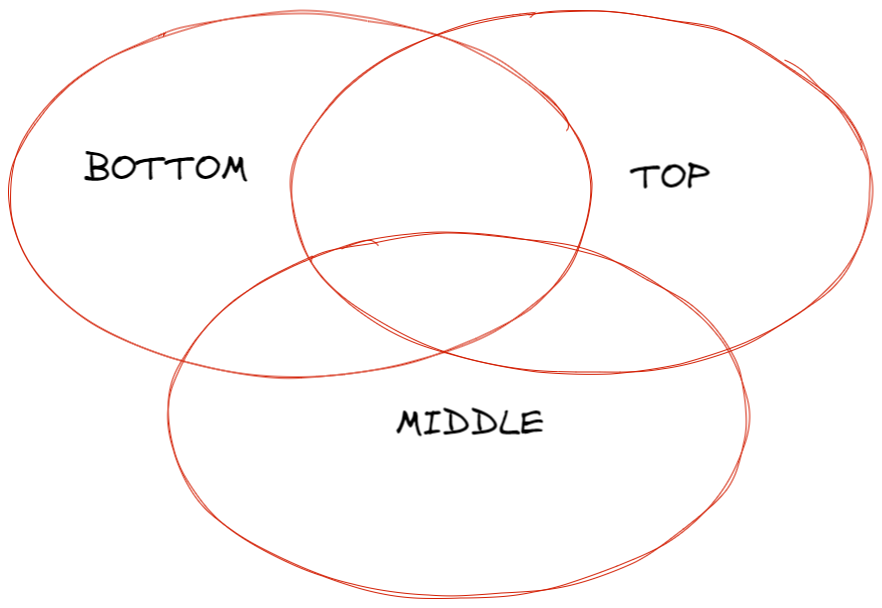 Instead of a funnel, think about a series of overlapping circles. Each circle represents a different group of customers with different needs at different times in their lives. Some will buy from you repeatedly; others will come once or twice; still, others might be one-time buyers who then become advocates for your business or even employees.
Most startups want to educate their potential customers because:
it feels like it's an efficient use of time
it feels like it's a good investment.
However, companies shouldn't fall prey to this.
A corporate event business that's looking for a better supplier would probably not browse around for "Top wines to drink this winter".
Creating top-of-the-funnel content first might be more expensive and time-consuming since you don't have any customers yet.
All this does is create more work for the startup and content marketers – and in most cases doesn't produce any benefit for startups' bottom line. It doesn't help startups get trials or demos. And it doesn't create any loyalty with their customers because customers are not loyal to brands or content; they are loyal to solutions that solve their problems.
Our content strategy was heavily focused on bottom-of-funnel content initially. Once we started to get a steady stream of leads and we'd exhaust all ready-to-convert keywords, we would move on to some top-of-funnel keywords.
How we generated a 3,000% increase in traffic from highly-converting keywords
Bottom-of-the-funnel keywords are usually low volume, low difficulty.
This means that it should be easier to rank for them and are usually easier to test.
If we were to pick a keyword like 'wine subscription', this would be fairly high to rank for with a website that has barely any content. It would probably take us more than a year to rank for it, and would require around 100 backlinks to move the needle:

On the other hand, for keywords like 'wine subscriptions for restaurants', 'bulk wine orders', 'monthly wine orders restaurants', we'd have higher chances to rank faster and target ready-to-convert buyers.
That's because:
We use keyword tools as guidance, and we always take the info with a grain of salt. Even though keyword tools show us 10 search volume or no volume at all, we've noticed that these keywords do actually have some volume;
If it takes us 1 year to rank for a 13,000 volume keyword, it would take us way less to rank for 10 keywords with 100 monthly searches.
Bottom-of-funnel keywords are highly targeted. People searching for "wine subscription" are likely to want different things – they want to learn more about what wine subscription is, they want to explore wine subscription services, or they want to look for a wine subscription service in their area. On the other hand, we know what people searching for "wine subscriptions for restaurants" want.
By going after bottom-of-funnel keywords first, we got from 700 page views per month to over 2,000 in just three months. After almost two years, we're looking at 22,000 page views just from bottom-of-funnel keywords.

We are now ranking for over 400 keywords in the top 3 positions.

The good news was that the wine subscription for the B2B niche was not hyper-competitive. This meant that we had the luxury of targeting bottom-of-funnel keywords that were both high volume and low difficulty.
We focused on three types of bottom-of-funnel content:
Long-tail keywords – e.g. "wine subscription for restaurants"
Comparison posts.
Each article was addressing one type of audience – either restaurants, corporate events companies, or hotels.
Most of the leads came from restaurants so we doubled down on restaurant-related content and also started to create top-of-funnel content that started to pick up backlinks from local websites and directories. This pushed the website's domain rating from 0 to 14.
If you're interested to find out more about how we can generate more business for you through content marketing, feel free to check out our process and more about us here.