Getting your first 100 users is one of the most rewarding achievements when building a SaaS product. But it's also extremely complicated if you don't know how to start.
This article will share the exact steps we followed to get our first 100 beta testers. We also got priceless feedback we later used to refine the prototype—all of this without spending a single dime on marketing.
This is what I'll cover:
Backstory
Back in 2020, we started developing an order tracking Shopify App, something like Aftership but cheaper and with a lot more customization options. It turns out our idea was greater than our technical capabilities, so the app remained a prototype. Regardless of these hiccups, we managed to get our first 100 users by leveraging a technique called social promotion (which is now part of our content marketing process).
The idea behind the MVP was pretty simple – you get a self-hosted, fully customizable order tracking page where buyers could – you guessed it – track their orders.
Back then, there were just a handful of order tracking apps. All of them could be divided into these two categories:
Too expensive for small Shopify stores;
Extremely hard to work with and customize.
We embarked on solving these two problems with a single app – EZ Order Tracking.
The goal – Get 100 beta testers
With the app in full development mode, we started thinking of ways to get our first 100 users. Bear in mind that this was a 100% bootstrapped project, so we had to fund everything from our own pockets. This means that we had to find a way to get these users as cheaply as possible, without spamming and avoiding bots at all costs.
After a few brainstorming sessions, we decided to reach out to people using community content promotion. The best one for this specific case was Reddit.
I am a long-time lurker but relatively active in most business communities, especially those revolving around digital marketing and eCommerce, which has proven to be a great advantage for this project.
The only way to capture attention on a specific platform is to understand its users. If you don't know who you are targeting, you're going to have a tough time getting it off the ground.
When doing community content promotion, you have to know who you are targeting, how they speak, what they need, and why they care about your product. Miss any of these, and you're going to fail.

Most people think posting on social channels asking people to sign up for your product is too sales-focused and will get you banned. That's true if all you want to do is sell. Instead, you want to be original and natural.
If you communicate to the right community, chances are you'll get not only sign-ups but also precious feedback to guide your product in the right direction.
This is precisely what we did to get the first 100 beta testers for EZ Order Tracking and set the stage for a new Shopify order tracking app.
As per all our case studies (Youtube, Pinterest, Search), I'll share the step-by-step process you can follow to achieve the same results. For now, let's start with the basics.
What is community content promotion?
Community content promotion means sharing valuable information in an online community with the end goal of engaging and educating its members. This is usually done in writing, but infographics or even videos can work too.
The idea behind this is pretty simple. It's a means of getting yourself to show your skills and expertise in front of an audience. It's a great technique as you don't need to spend a dime on reaching millions of people.
And I would go as far as grading this as one of the most important marketing tools any startup should leverage.
Why is community content promotion important?
Community content promotion can help you get in front of a massive, eager-to-learn audience ready to absorb new information from your field – given you do have anything new to share.
Something significant to bear in mind is that you have to be extremely careful not to sound spammy when posting in online communities. People hate it when you're trying to sell something to them, so make sure you keep it simple, to the point, and above all – valuable. In other words, you usually have to create non-promotional content.
What is non-promotional content?
Non-promotional content is a type of marketing communication that doesn't talk solely about your products or services but instead focuses on useful and helpful information with the end goal of increasing your reputation and helping your audience.
Now that I covered the main aspects of the community content promotion strategy it's time to go over the process we followed.
Community content promotion strategy breakdown
I am going to break this strategy into 4 steps to make things a bit easier:
1. Find the right platform (jump to section).
2. Write and post (jump to section).
3. Engage and convert (jump to section).
4. Analyze the results (jump to section).

If you follow closely, you might be able to achieve the same results. After all, there is no guarantee what worked for us will do exactly the same for you. Your product might be even better and you could potentially get thousands of new users, as long as you find the perfect platform.
Find the right platform
As previously mentioned, this is the most important step out of all of them. You have to research multiple platforms and find out where your audience spends most of their time.

For us that platform was Reddit. More specifically the Shopify-focused subreddit r/shopify.
As a matter of fact, that was the place where we got initial feedback on the idea before we even started pursuing it.
We chose this platform after researching Facebook and Linkedin Groups as well as various subreddits. The problem with the first two is that most of them were full of spammy accounts that posted about their $200/month SEO services. Most store owners left these groups just because of that.
But Reddit is heavily moderated, which means the members of r/shopify are real people with real businesses (to a point), ready to find the next big thing for their stores.
When you start researching a platform, make sure you follow these golden rules:
Make sure your ideal customers spend time on it;
Check whether or not the community is moderated;
Read the community guidelines and description to make sure a possible competitor did not create it.
Golden Tip: Businesses have created some communities to sell their services or provide support. You should stay away from these places as their admins will never accept a post that doesn't revolve around their product or service.
Once you have a list of 5 to 10 communities, it's time to move to the next step.
Plan, write and post
Planning is the backbone of any strategy. It doesn't matter what the end goal is; if you don't have an action plan, you'll most likely never reach it.

Say you want to target the Australian market, but you live in the UK. Your workday started when theirs ended. If you post at 2 PM your time, then your post will never make it too far, mainly because you'll reach a tiny percentage of the whole audience.
Timing is essential to know when your target customers wake up and try to aim for that timeframe. Since our app worked best with US carriers, we aimed to post about it when the US East Coast woke up.
Now that you know the best time to post based on your time zone, you have to start writing the actual content.
Here are a few guidelines you should follow:
Make sure your content is 99% education and 1% sales – Depending on what it's about, you might want to go with 0% sales.
Writing the way you speak is a common copywriting technique; you want to be original and natural when conveying a message, so people find it easy to read.
Speak like your audience – You want to use the same tone of voice as the members of the community you are trying to target.
Integrate a Call To Action – The action doesn't need to be sales-related, but rather it gives the reader the next step to follow. Think of subscribing to a newsletter or enrolling in a beta tester program for your app.
Golden Tip: When you finish writing any piece of content, reread it and cut about 20% of it. Chances are you slipped in too many useless details. You always want to be on point, especially in the world we live in, as people's attention span is slightly decreasing year over year.
By now, you know where, when and what to post, so go ahead and do it. People often find this difficult, but trust yourself to click the "Publish" button and move on to the next step.
Engage and convert
If the universe is with you and Lady Luck pushed your post in the newsfeed of your audience, you'll start to see some traction.

We've done a crude analysis of a few hundred posts and discovered that only about 5% make it to the "Hot" category. If you recheck this article in some time, you'll be able to click here for the detailed study, but not for now.
Your post has more likely got some comments from interested people and trolls alike. Make sure to answer all of them.
You'll get social bonus points if you add something new to the conversation with each comment.
When we posted on r/shopify, we got solid feedback for the app and many messages in my inbox. Store owners wanted to know why the app was better than others, why they should give it a try, or what it does. I answered all of them, resulting in almost ten additional beta testers.
The CTA for my post was for people to sign-up for a waiting list. It was something extremely basic I put together using Active Campaign, a landing page, and a welcome email.
We wanted a way to keep in touch with interested people once the app was ready, so a simple email capture landing page was perfect.
This is how we got 100 emails in 2 days.
But there are other ways you can keep in touch with interested parties. You can ask people to:
Join a Slack channel – works best with entrepreneurs;
Join a Discord server – works best with younger audiences;
Join your Facebook Group – only works for specific industries.
Remember that your post will only get engagement for a very short period of time, so you need a way to keep in touch with your audience.
Before people added their emails in my lead capture form, they could clearly read that I would only send a limited number of emails, which I did. Nobody likes to spam or get sent unsolicited communications, so if you go with the email capture strategy, make sure to keep your word and only send out emails with important product updates.
Golden Tip: If you add a link to your post, make sure to add UTM parameters to it. By doing this, you'll have a way to analyze the results. If you don't have access to a Google Analytics account, you can use a URL shortener that keeps track of clicks.
A few days after your post (hopefully) got some engagement, it's time to look at the results.
Analyze the results
This is the moment of truth when you understand what worked and what could be better. Even if your post reached its maximum potential, you could always make things better.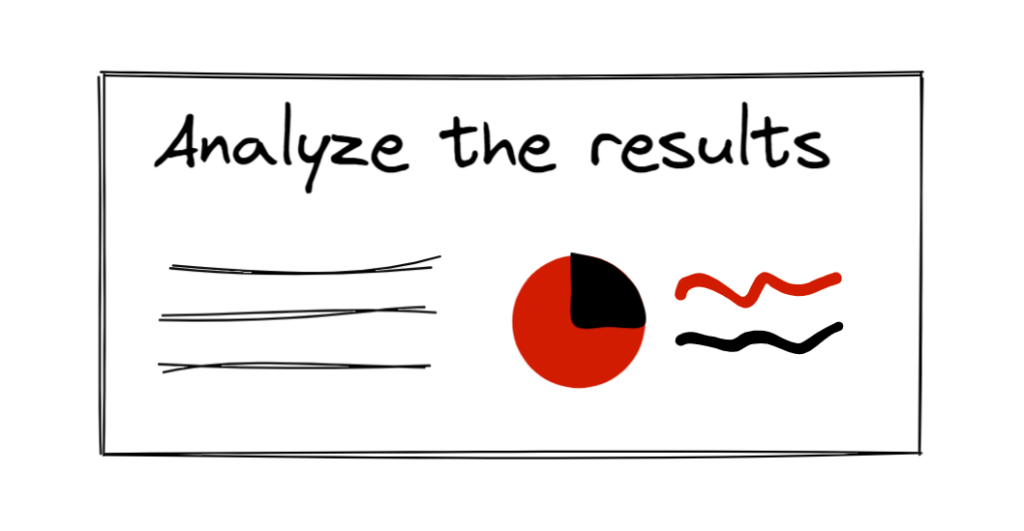 Read its comments and see what community members have to say about it.
See how many clicks you generated, how many beta testers you got, or how many new members have joined your own community.
This is all about your end goal, so it's almost impossible for me to explain how to analyze the results.
In our case, we got 100 beta testers from around 300 clicks, which means that our conversion rate was close to 30%. Not too shabby.
I aimed for a 10% conversion rate, which vastly outperformed my expectations.
Golden Tip: If you write about a product launch and ask for beta testers, you will be surprised to discover that some people have specific problems you haven't even thought of. Use this new information to make your app even better.
Now you know how we got 100 beta testers and the exact steps you can take to reach the same result. If you feel like this might take too much time, don't be shy to get in touch.
We'll be happy to take your product to the next level using a combination of content marketing and community content promotion. After all, that's exactly our process.