The action plan that will increase your revenue
What you are seeing right on top is the ChilliPlan Conversion Audit.
It's a real story featuring real business data that helped tens of SaaS and e-commerce stores get more out of their traffic.
You can have your own edition based on your own data and KPIs.
Part of the top 1% marketers
Do you really know your business?
Your data is more than just numbers
You cannot make business decisions based solely on your gut feeling. It may work, but getting to really know your audience will uncover hidden opportunities that would otherwise go unnoticed.
In the first chapter of the ChilliPlan, you will get to know:
if your implementation is done right;

who your users are, where they come from and what they are doing on your website;

your main funnel leaks and how to get more people to buy.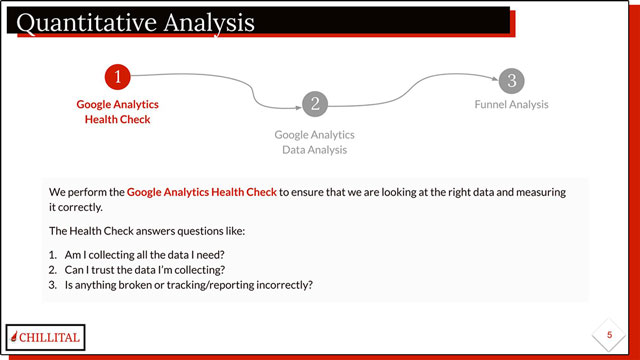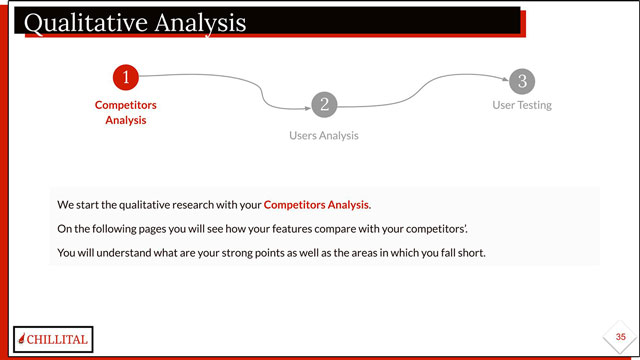 Your users are more than just buyers
The data will not show you if people are loving your website. Moreover, their experience might be affected by certain features or functionalities.
To completely understand your users, you have to actively ask for their opinion. 
This process takes around 1 to 2 weeks as we implement:
user polls to get feedback right from the field;

heatmaps on your most important p

ages;

Screen recordings to see how people interact with your website.
We will analyze your competitors to see what they are doing differently, for the better or worse.
But even that is not enough! We will also set up real user testing. People will follow a script and try to accomplish common tasks – like searching for a specific product, signing up for an offer or completing a purchase.
Okay, but what can you do with all that data?
Tens of pages of analysis don't mean anything without an action plan.
In the last chapter of the conversion audit, you will find anywhere between 10 to 15 testing hypotheses so you can take action ASAP.
Each hypothesis is based on previous findings and is built to increase your critical KPIs. Moreover, each and one of them includes:
a specific goal;

a ready-for-designers wireframe;

a specific testing score for prioritization.
In the end, you will receive a Testing Master File with all hypotheses so you can start A/B testing right away.
All you have to do is implement and analyze the results. Or we can do it for you, but more on that later.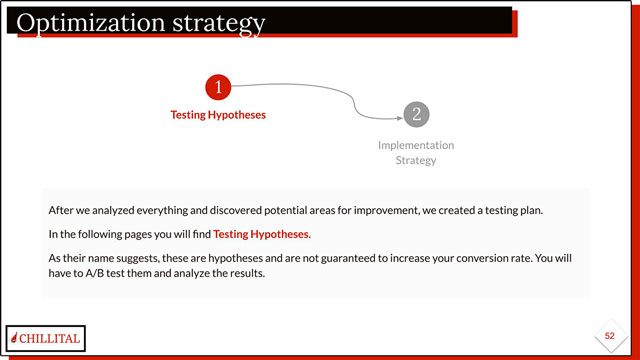 You get more than you would expect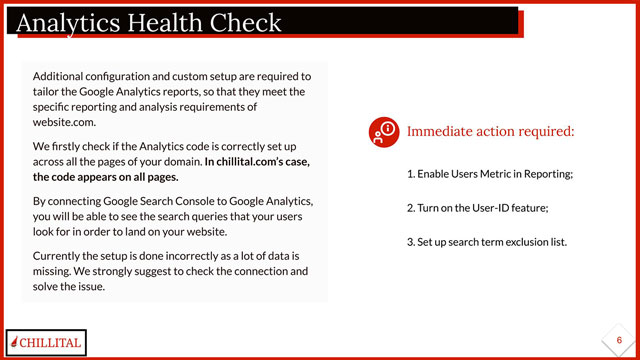 Google Analytics Health Check
The Health Check answers questions like:
Are you collecting all the data you need?

Can you trust the data you are collecting?

Is anything broken or tracking incorrectly?

Google Analytics Data Analysis
No more guessing! You will know exactly who your users are, how they reach your website and what they are doing on it.
We will cover all Google Analytics reports in the analysis:
Audience;

Acquisition;

Behavior;

Conversions.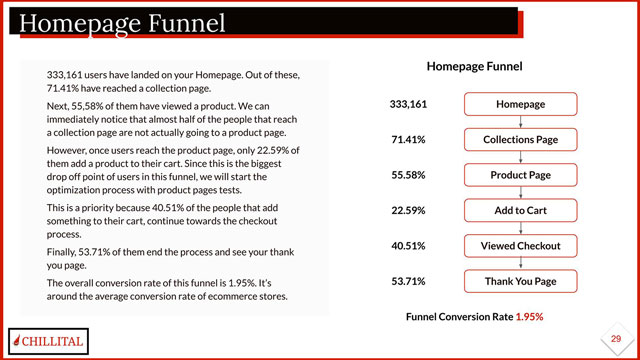 Funnel Analysis
Chances are your website has more than 2 pages, which means that you have at least one funnel in place.
We will take a closer look at your main funnels and uncover the biggest drop off points.
We will pinpoint exactly which page is the most problematic one, and focus on getting it better.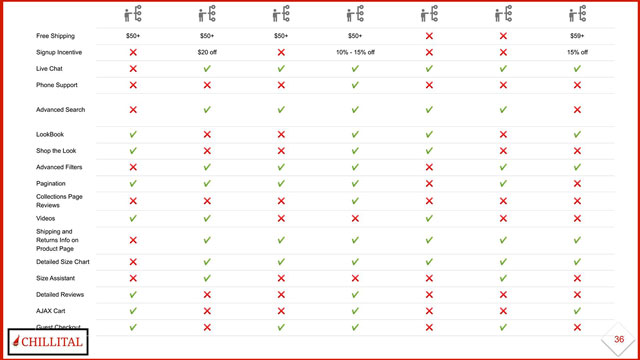 Competitors Analysis
Keep your friends close and your enemies even closer.
If your competitors have an advantage over you, we will point it out. No business is flawless, but you will get to know how to get yours on top of everyone else's.
We will take 5 or 6 of your main competitors and dissect their websites, offers and features.

Users Analysis
Quantitative data is not enough to understand how users interact with your website. 
We will set up heatmaps and screen recordings for your most important pages. At the same time, we will run polls to gather first-hand user feedback.
Ask your visitors what they want, and they will tell you.

User Testing
We will ask real people to follow a script and share their feedback – all while recording their screens.
User Testing is one of the most efficient ways of seeing how people actually use your website. It points out what they like about your shop and what would make them happier.
You will be surprised that certain features are really difficult to use.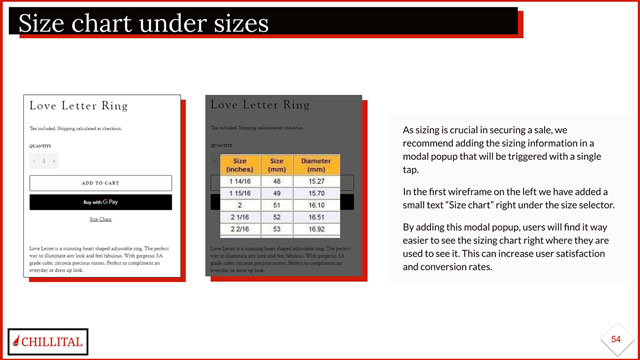 Testing Hypotheses
By now you will have a better overview of your business, but the ChilliPlan is not over!
We will create hypotheses that you can implement and test. 
But don't haste. As their name suggests, these are hypotheses and are not guaranteed to increase your conversion rate.
You will have to A/B test them and analyze the results.
Or just ask, and we can do that for you.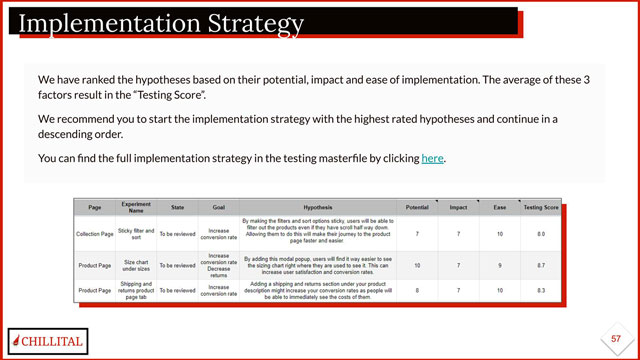 Implementation Strategy
The last part of the conversion audit is the Implementation Strategy.
As each hypothesis has a different overall effect on your conversion rate, we will rank them in their order of importance based on 3 different factors:
Potential;

Impact;

Ease.
It really can't get easier than this.
Do people know how to use your website?
The average e-commerce funnel length is 8 steps
That means people have to see at least 8 pages before they finish a purchase – and this is the best-case scenario.
The vast majority of your users look around, compare products, search for offers and then just exit without buying.
Running a funnel analysis will pinpoint exactly which pages are the most problematic.
If you have a lot of users on your product page, but just a few of them add something in their carts, you know what to prioritize.
Have a look at the example on the right, the funnel starts with the Homepage and ends with the Thank You page. 
In this example, the product page was the main conversion killer, as only 22.59% of people add a product to their cart.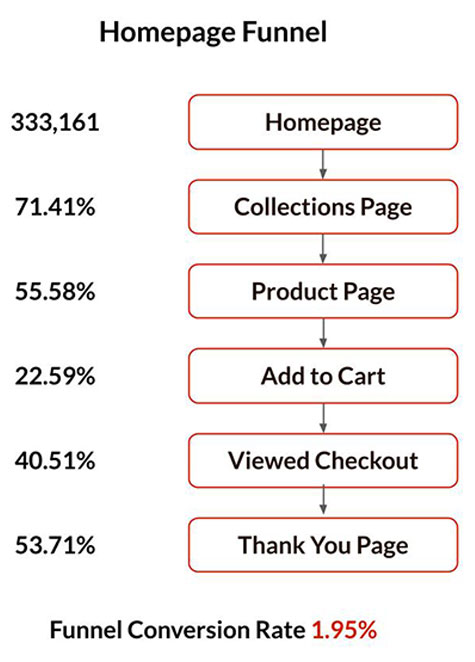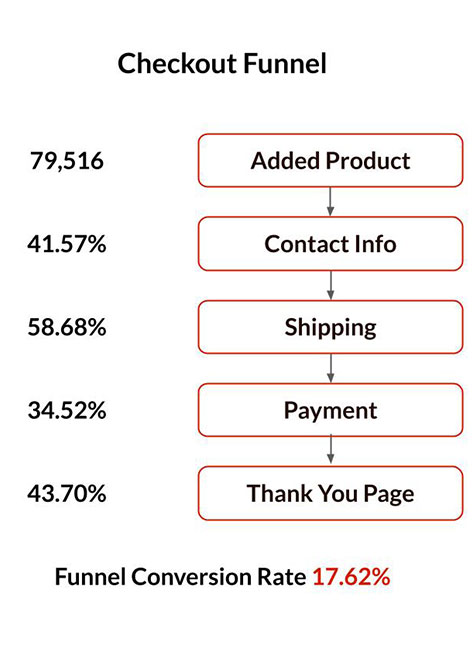 A lot of people will never finish the checkout process
This happens because they don't trust you.
Maybe you don't have a lot of payment options, or maybe you don't reassure them that your checkout is safe.
Whatever the reason, getting to know what step is the trickiest will allow you to correct it.
In the example on the left, you can see that only 17.62% of add to carts convert in purchases.
Increasing this percentage by just 10% can get you a lot more revenue.

What is your competition doing?
Do they have better shipping and return policies? Are they giving users discounts or custom recommendations?
Analyzing your main competitors is a tedious task, but it has to be done.
If your competitors have an advantage over you, we will point it out. 
We look at around 5 or 6 of your main competitors and dissect their websites, offers and features, so you can get better than them in each and every business aspect.
You can get the insane value of the ChilliPlan for less than your monthly ad spend. 
That's right, instead of doubling down on your advertising budget and losing 97% of all traffic, you can focus on increasing your conversion rate. Just follow the plan, test the hypotheses and see your KPIs grow naturally.
You will get the quantitative research, qualitative research and the optimization strategy for $1,500.
No time wasted.

No hours charged.

No additional costs.

No monthly retainer.
Just one upfront fee and you are all set.
Get in touch by clicking on the big red button below. A form with 4 fields will popup. Once you complete and click the "Send message" button we will get an email.  It takes us less than 24 hours to get back to you to schedule a call.
To get the most out of your ChilliPlan, your website needs to have at least 30k users per month.